Name
: Misty
Age
: 17
Gender
: Female
Location
: Garland, Texas :P
Would you like to be rated as a male, female, or either?
: Female, either is fine if you can guy that works though lol
Random Stuff!

Favorite wrestler(s), and why
: Shawn Michaels because I have always admired everything that he does, a true role model. Ken Kennedy (I'm telling you him and the microphone, you can't go wrong.), John Cena, I love him to pieces. Charlie Haas, Shelton Benjamin, Eddie Guerrero, Chris Benoit, Chris Jericho (I love this guy so much!), Santino Marella, Triple H, Cody Rhodes, William Regal, Undertaker, Kane, Eric Young, MVP. Chyna (Female role model in the WWE/F at the time), Beth Phoenix, Victoria, Mickie James, Christy Hemme, Jackie Gayda.
Least Favorite, and why
: Randy Orton! (This man is just so terrible! I hate him with everything in me, and he looks like a freaking monkey!), Edge, Carlito, Mark Henry, Hornswoggle, Hardcore Holly, Deuce and Domino, Bobby Lashley, Khali, both Hardy Boys. Maria (I swear she is a crackhead lol), Candice Michelle, Torrie Wilson, Melina, Michelle McCool (She has an Adam's apple, I'm telling ya.), Kelly Kelly, Layla, Cherry.
Favorite Style of wrestling, and why
: I love submission holds, I don't know why or grappling. High flying moves are alright if you can pull them off.
Favorite company and/or brand?
: WWE...Raw probably because of the entertainment value.
Personality-wise
Describe your personality as vividly as possible
: I am very sarcastic. Brutally honest, can crack a joke. Hard to get me to laugh but if you can then that keeps me rolling for awhile. I can hold a grudge, definitely. Usually words are only necessary in a fight, surprisingly I leave them stunned.
Strong Points
: Powerful, if I trust you I will back you up no matter what. Very passionate about the things I do and when I do something, it gets done. Very trustworthy and never betrays those that are closest.
Weak Points
: Maybe I put my trust into the wrong person which does happen every so often. If you annoy me, you'll be the first I'll tell. :) I do have trust issues and I tend to get a lot of projects going on at once which can be overwhelming at times.
What are some of the most important qualities a person should have?
: Great at what I do. Ambitious, passionate, strong-willed.
Introverted or Extroverted?
: Introverted but if I'm comfortable, I'm never what anyone expects and I'm told that's a good thing.
Dominant or Submissive?
: Dominant usually because I get stuck in situations where the blind lead the blind. If I know what I'm doing, I'm leading. Submissive only when learning or have no clue what I'm doing.
Logical or Intuitive?
: I use my intuitivity for logic. So I use my instincts to help me make logical choices.
Describe your sense of humor
: Sarcastic, blunt but makes people laugh because of it.
Likes
: The color green. Stupidity. Wrestling. Writing. Smart conversations, doesn't necessarily mean they're serious ones either. KEN KENNEDY (lol so cute), Shawn (the rolemodel), and of course my rock, John Cena.
Dislikes/Pet Peeves
: Randy fucking Orton. GAH. Constant tapping is annoying. Racism. Ignorance. Poor grammar.
Hobbies
: Music, writing, making graphics.
Questions
If someone hurt you, how would you react?
: I would be pissed and doubt I could ever trust the person again. So I would cut them off for a long time if not for good.
Which wrestling technique would you most like to have: Mat-Master, High-Flyer, Powerhouse, or other (explain!)?
: Mat-Master probably but high-flying moves would be something I'd like to learn with a pinch of powerhouse.
If you found a great amount of money in the middle of nowhere; no witnesses in sight, what would you do?
: Look to see if anyone was desperately searching for money and if not then I'd keep it. (Selfish lol), but if it were an insanely large amount of money I'd take it to the cops and fast.
Would you risk your life to save someone you loved?
: Yes, if you mean that much then there's nothing I wouldn't do.
Quick! You're World Champion! How do you celebrate?
: I'm partying! Asking a few of the boys and girls in the back what they thought of the match if they want and go over my weak spots to improve.
Some jerk just took your title and your wo/man! What promo do you use to blast them out of the sky?
: Promo? Hmm. "You have no idea what you're dealing with here because now you have me to deal with. That's right, me. And guess what? I'm going to make your life a living hell. Everything you took will mean nothing to me because the only thing I want is to end your career." Something along those lines, make it chilling and serious to the point where fans are shocked to see such a side of me.
What do you want out of life?
Love, I truly do. Success and happiness. I'm lacking in all departments. MaybeI just want to be a rockstar lol. Live life in the fast line and burn out early.
Picture
(Optional):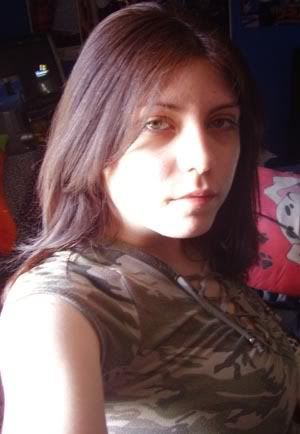 Mood:
artistic
Music: Dr. Stephen - Stephen Lynch